Nature, Nature and Excercise, Samsø - My Island
The Bag is full of good humour
We know him as Grocer Madsen in the TV series "Badehotellet". He has also appeared as Kjeld Petersen in the hit film "Dirch", for which he received a Robert Prize for best male supporting role. But it's not only on the stage that Lars Ranthe shows his talent – he's also come further than most on the golf course.
Falling in love
It was in the mid 1990's when Lars Ranthe fell in love with the game of golf. Lars reminisces 'I had been a ski-bum in the French Alps for a couple of years and missed hanging out with my mates when I wasn't at Acting School. We couldn't just pop down to France whenever we wanted to, so we tried out golf. To begin, we used the pay-and-play course at Gilleleje but we soon built up the courage to try other bigger courses."
At the time golf was very popular and there weren't so many golf courses as there are today, explains Lars. "It wasn't easy to become a club member, which you had to be if you wanted to play anything more than pay-and-play. The Samsø Golf Club had opened a couple of years earlier and even in those days it was offering long distance membership. So eight or nine of us became members of the Samsø Golf Club. Thus began our long and close relationship with golf and with Samsø.
Samsø Masters
Lars comes to Samsø with a group of friends to play golf a couple of times a year. Lars reveals "We come for a week in May and a week in September. We play a very serious round each morning. The score is really important as the prize is the title of "Samsø Master". Later in the day we play another round – this one is just for fun, messing around with beers and schnapps in the golf buggy."
The group of friends stay in different holiday cottages each time, so they also get to see some of the island. "We've been coming here for 22 years. For many years we played cards and drank beer until late at night but now we have become old, we're asleep by ten o'clock" says Lars with a big grin.
The trips to Samsø are the year's high points explains Lars. "I think Samsø has one of the best courses in the whole of Denmark. Many of the holes are exposed to the sea and the course is incredibly mature when you take into account how new it is. There's also a good atmosphere between the players and staff. The cosy local environment, where everyone knows each other, makes you feel very welcome. The course is never crowded and we always have the loveliest weather".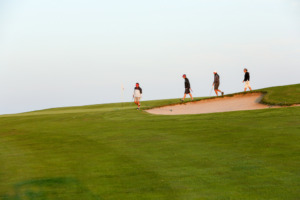 A ringing success
Lars has a handicap of only 4.5. That makes him amongst the most talented of amateur golfers. But he still finds it a challenge every time he swings the club. Lars ends by saying" Firstly, golf is a really fun game. You can play at all skill levels, you get exercise and it's sociable. But it's also very challenging to improve your game. I love practising in a nerdy kind of way, and that's why golf suits me so well. It feels like a real success when you hit the ball with a clean swing, as that doesn't happen too often."
LARS RANTHE
• Lars Ranthe graduated from Acting school in Odense Teater in 1998.
• In 2019 Lars is appearing in the detective series "Kriger" on TV2 and in a new film by Thomas Vinterberg.
• Lars, together with Sofie Lassen -Kahlke, is a golf ambassador for the Danish Golf Union.
• The last time Lars played the 18 holes on Samsø Golfbane, he played to par.
Last updated: 12/08/2020 13:12