Hiking, Nature and Excercise
Hike – Around Stavns Made
Length: around 8 km.
Duration: about 2 hours.
Footwear: Ordinary walking shoes
Park in the car park at the airfield in Stavns.
Walk back onto the road and continue to the right along the airfield past the dam leading to Gammelholm. Enjoy the beautiful view of Hjortholm, the largest island in Stavns Fjord.
Walk for about 600 metres along the same road and turn left towards Alstrup at the pole (marked with a red arrow). Along the way, on your left, you will pass Stenstuen – a small mound with a dolmen chamber. The road to Alstrup can be rutted from agricultural machinery and muddy when the weather is bad so be careful.
In Alstrup, turn right onto the paved road to Toftebjerg.
Walk through Toftebjerg and continue about 500 metres on Toftebjergvej (the road towards Nordby). Shortly after the road starts to turn and descend, turn right onto a 1.4 km long dirt road that later becomes Staunsvej.
Turn right at Staunsvej. Walk through the village on the road near the airfield. If you want to visit the small boat harbour in the southern outskirts of the village, turn left onto Kastanjealléen – a 150-meter-long dirt track that leads down to the harbour. The road is marked with a sign that says public path.
Walk back the same way and continue left towards the airfield – the starting point of the hike. The trip around Stavns Made is also suitable for cyclists although it may be necessary to get off and walk with your bike at some places along the way.
We recommend that you take a detour and go up Store Vorbjerg on the way, or instead of parking at the airfield, you can make the Store Vorbjerg hike your starting point for the hike around Stavns Made. In both cases, you will be rewarded with a great view of the northern part of the island and the Stavns Fjord area in clear weather.
If you take the detour, after around 500 metres on the dirt road that runs between Toftebjerg and Staunsvej you will need to turn left at the pole marked with a red arrow.
Follow the marked, and at times quite steep, path up to Store Vorbjerg – and walk the same way back to the dirt road where the hike continues.
At the beginning of the hike from the car park at Store Vorbjerg, follow the marked trail (red arrows) to the top. Enjoy the view of the northern part of the island and walk through the gate to the other side of the hill where you can see the Stavns Fjord area.
Walk back and this time turn to the left. The descent is steep, so be careful. Follow the red arrows through the gates. At the beginning of the hill, follow the gap between the fields next to the dirt road between Toftebjergvej and Staunsvej.
Turn left, i.e. in the opposite direction of the red arrow that points to Toftebjerg.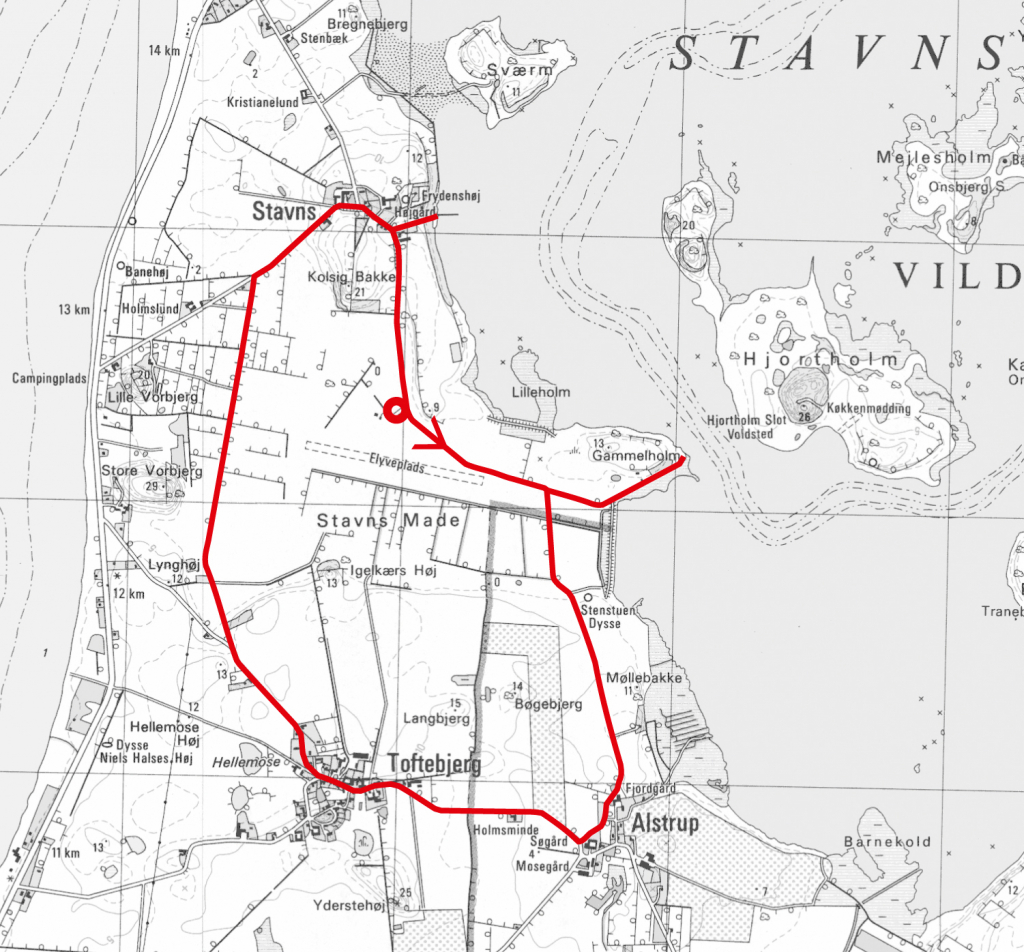 Last updated: 16/02/2016 08:38