About Samsø, Coasts on Samsø, Life on Samsø
Holiday Cosiness Straight Ahead!
Samsø's coastline is about 120 kilometres long and there are marinas both east and west. This makes Samsø an ideal yachting destination whether you are just on a one-day trip from Marselisborg, or if you have set out on a longer voyage around Denmark.
High Spirits for Big and Small
On the eastern side of Samsø the island's largest, most popular, and extremely vivid harbour is located – Ballen Harbour. Here you will fi nd a real holiday atmosphere with many restaurants, shops, and great beaches on both sides of the harbour. Throughout the summer, there are lots of people, and in week 29, when Samsø Festival takes place only a few kilometres north of the harbour, the town is teeming with activity.
Families with children feel very comfortable due to the safe environment where children can splash around in the inner part of the harbour, go swimming from one of the beaches, or perhaps explore the town on their own. There are ice-cream booths, various nature activities, and child-friendly restaurants. If Ballen itself is not enough, it is only a short bicycle ride to reach the remaining part of Samsø where it's easy to fi ll one week after another with good experiences.
Experiences All Year
Even though Ballen is the place on the island with most tourists, the cosy atmosphere of the harbour and the town have been preserved. It is still possible to have a chat with some of the elderly locals, drop by the beautiful old merchant's house, or take a walk up to the nearby village Brundby where you can visit the old post mill or go to a concert at the Rock Hotel.
In Ballen, there are no less than ten eateries, a handful of places for overnight accommodation, several small shops, and interesting activities for children and adults. "Many places open in the spring and close after the autumn holiday. This gives us a great advantage over many other Danish harbours which have very little to offer when the summer is over. At the same time, the marina area and the rest of the town are fantastically well integrated which brings about an atmosphere of holiday and cosiness", says Harbour Master Frederik Bilsted Pedersen.
Harbour of The Future
Throughout the last couple of years, large parts of the harbour have been renovated, enlarged and modernised. Most recently last year, when a smart boardwalk along the waterfront was established. Here you can enjoy a refreshment with a fabulous view of the whole harbour and the small beach where children paddle and catch crabs from the bridges.
"Some years ago, we implemented an online booking system where yachtsmen can book a specific place in advance, and many use it. Recently, we have also modernised a number of the piers and there a many interesting plans for the future", Frederik promises.
The sharp focus on improving yachtmen's experiences gives visitors a great place to visit all year round, and in 2014 many of them voted for Ballen harbour as "Harbour of the Year 2014" – a competition organised by Danske Tursejlere (Danish Yachtsmen). "We won as a result of our high standard of service, visible presence of our harbour master, and good harbour facilities. And this is, in fact, a fantastic pat on the shoulder", Frederik explains.
---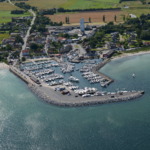 Langøre Havn
55°54,6'N 10°38,5'E
Langøre Harbour is located on the northern part of Samsø on the estern side of the protected Stauns Fjord. Langøre is a natural harbour which has been in use since the Viking Age. The harbour sees about 4,000 yachts per year. During most of the year, the harbour is used by local leisure-time fishermen in and around the fjord. From Langøre Harbour you'll have a unique opportunity to see the fascinating fjord area. For instance, go for a walk towards Samsø Nature School and Langøre church. On your right you will see the remnants of the entrenchment constructions dating back from the English Wars, and when walking left you can go to the top of the small hill of Grønhøj, where you will find an exceptional view of the entire fjord. At Langøre there is a small sea-food restaurant and a smokehouse where you can buy bread for breakfast.
---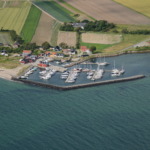 Mårup Havn
55°56,2'N 10°33,1'E
From the island's northernmost harbour you have some of the island's most magnificent scenery right before your feet – Nordby Hills. This enormous hilly area stretching from the harbour to Issehoved, the north tip of Samsø, is a paradise for hikers and nature lovers. The harbour is located about 2 kilometres from the town of Mårup, where there is a DagligBrugs supermarket, an art gallery with continuous exhibitions and Beyergården, a fine skipper house as part of the Museum of Samsø. The actual harbour is small and intimate with a kiosk that offers a selection of light meals, a room for sailors and a small fisherman's cottage where local fishermen meet for a chat and a beer.
---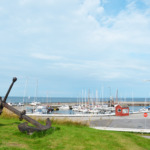 Kolby Kås Havn
55°47,7'N 10°31,9'E
When you arrive at the southernmost harbour of the island, you are guaranteed peace and quiet. The harbour is also a good starting point if you want to see the southern part of the island from your bike. From the harbour it is maneagable distance to Kolby Mill, Brattingsborg and Vestborg lighthouse. Until a few years ago, you had to take the ferry from Kolby Kås harbour to Zealand. Now there is a ferry service between Samsø and Kalundborg from Ballen ferry port which means that Kolby Kås harbour is reserved solely for yachtsmen and minor professional vessels.
Last updated: 26/08/2020 11:19