About Samsø, Life on Samsø, Samsø - My Island
On Samsø, you will find cosiness, homeliness, and accommodating hosts.
---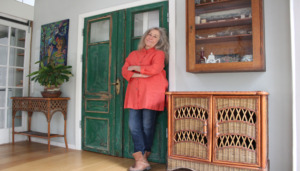 Jaime | Ballen Bed
Jaime is originally from Chicago, but she moved to Denmark at the young age of 17.
Since then she has travelled extensively. She has sailed the big oceans. She was a successful business woman with the catering firm "Fru Carlsens Diner Comfortable". For a number of years, she was a radio cook on DR P4, and now she has ended up on Samsø where, at her Bed & Breakfast place, she serves her endless smiles and her warm personality with much generosity.
"We did a lot of sailing and every time we were in the Kattegat waters on our way to Aarhus, we always felt like dropping by Ballen harbour. We became aware of Samsø when we moored and spent many days biking around on the island. The dream about living near Denmark's most wonderful harbour came true in 2007 when we bought an old farm worker's building with only the outer walls worth preserving. Today, I have sold my heart to Samsø. I cannot understand why all of Denmark doesn't live here", Jaime says.
The farm has now been turned into a nice place for overnight stays and accommodates 10 guests in five rooms. "There is peace and quiet here and an impressive starry sky although we are only a stone's throw from Ballen. You can withdraw from the bustle and enjoy the large lot, the terraces, and the flower garden. The rooms are large and there is a nice common room suitable for a big family, for friends, or for making new friends", Jaime states.
Jaime does not live at the place herself, and, as she says, "I only bother my guests in the morning with the smell of freshly baked bread, ready to answer all their questions about Samsø and tell them about the secrets of the island. It is really cool and great having so many nice people around who are curious about both the place and the island", she says with a laugh.
---
Charlotte og Søren | Stay by Stage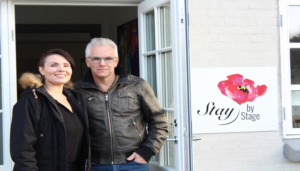 Eight years ago, when Charlotte and Søren had just met each other, they went on a trip to Samsø. They soon found out that they had come to the island of love, and less than two years later they held a smashing wedding at Brundby Hotel. After another two years, they bought a summer cottage in Ballen which, as time went by, they used so much that the only sensible thing would be to go all the way.
Today, Charlotte and Søren and their daughter Sofie have ventured into a new, exciting project. They took over the old Nordby Kro and had it thoroughly renovated so that it now appears stylish and trendy. "Our place is aesthetic and a pleasure for the eyes. When people arrive, they should feel like they can relax. The beds are made, there are towels and a delicious shampoo, which I also sell at the small shop connected to the place. Our rooms in the annex are large. I don't like the idea of cramming people into small dens", Charlotte explains.
At Stay by Stage, the name of this place for overnight accommodation, you can have a delicious breakfast and a chat with other guests. "At our place, you will find room for privacy if that's what you prefer, but we set the scene to give people an opportunity to have a good time with other people. We are passionate about being personal hosts, and it is important for us that our guests should not feel like they're all by themselves. Talking with each other, getting to know each other, and the feeling of being part of the atmosphere are characteristics that I myself like so much about Samsø, something I would like to pass on to our guests", Charlotte explains
---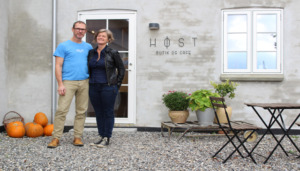 Pernille og Jakob | HØST
In Mårup – just where the road bends – we are welcomed by Pernille and Jakob, who a few years ago replaced their house in Højbjerg with a farm of 750 m² in Mårup.
"We both had a deeply felt desire for more nature, rural surroundings, more stars on the sky, and more tranquillity. Therefore Samsø was the only place where we wanted to live. In addition, we both had a common dream about building a place with a holiday flat, personal and somewhat different. Setting up a shop with our own designs and odd things and features from local people. For instance, during this season, in our garage, we installed a small museum together with a local collector from Mårup", Pernille explains.
Both Pernille, a graphic artist, and Jakob, a media graphic designer, have a fantastic eye for interior decoration and good style which is reflected everywhere in the large holiday flat and in the shop they have set up in the old farm. "We make efforts to create a place with many small and funny things and stories people can explore." One example is a wooden wall where their guests are allowed to draw and write greetings. There is visual art everywhere made by both Pernille and other artists, and "such things add a homely, trendy twist to our flat", Jakob explains.
The holiday flat is large, in fact as large as 170 m², so there is lots of space for the six persons and the six beds. In the combined shop and café, where the couple sells wine, clothes, graphic works, and other delicacies, you can also buy a well-prepared cappuccino and a cake to take away and enjoy in the living room in the flat. That is very nice indeed!
"There is activity, but also lots of room for privacy. And then we take pleasure in inspiring our guests to delightful experiences on Samsø", Pernille says.
Last updated: 11/08/2020 14:13