Art and Culture on Samsø, Samsø - My Island
Presence thrives with thin brushes
A few drops at a time. The hot water hits the freshly ground beans. Care and elegance blend in with the aroma spreading through the kitchen. "Here you go – coffee's served," Thomas says, pouring it into the small, glazed stoneware cups crafted out of clay from the other side of the famous village pond.

Sanctuary
The children have just cycled off to the beach with some of their friends from Nordby and Anna and Thomas Kluge settle down at the sun-drenched garden table. "Samsø is a genuine sanctuary for all of us – both children and adults. In everyday life we are a busy family like so many others, where everything is organised down to the last minute. When we arrive on Samsø, the first thing I do is to hide my watch in order to let chance and whim determine how the day unfolds," explains Anna, who is the Dean of Næstved.
Anna has herself been to Samsø many times since childhood. At first her parents borrowed a house in Stauns but later on bought a plot of land in Mårup, where they built a house. "I have spent almost all my holidays on Samsø and I always cried when my father packed the bags and we were going home," she remembers.
Since 1969 Thomas has also been a regular visitor to the island and it wasn't difficult to decide to build the holiday home in Nordby, which is used extensively all year round. "Of course it's nice when it's summer and we can go swimming and eat ice cream but we also enjoy November's silence and darkness. We have gradually established some traditions which the children greatly value. In the autumn school holidays we carve pumpkins and join the night run in the Labyrinth and for Easter we roll eggs in the hills," says Anna.
The roof of Samsø
"It's like stepping out of the Narnia wardrobe," Thomas exclaims as we scale the slope. We all look down in front of us to stay on the path and then, suddenly, the landscape opens up: In front of us the magnificent hills stretch towards the sea and, enthroned at the top of this mythical terrain stands an old and gnarled apple tree.
We are in Langdalen, which is one of Anna's and Thomas' favourite places. "We have named it 'The roof of Samsø'," Anna explains and reaches out to the not yet fully ripe apples. "We often take a picnic basket out here and enjoy the vastness of the peace and the space which is all around and above us".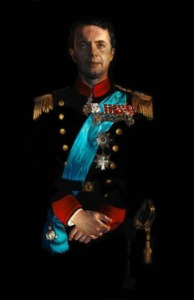 The grip of darkness
If you look at Thomas sitting there under the apple tree, it is quite obvious that he is very comfortable with his place in the landscape. But it's a different matter when he stands in front of the canvas: "The landscape only plays a significant role in a few of my works. Landscapes taunt me! I give it a go from time to time but often I get so angry that I paint it all black," he says with a mischievous smile.
Typical of Thomas' style and work is the use of black and the sometimes slightly gloomy look. "The black creates a unique intensity in what I want to convey. The subject stands more isolated, more naked and there is nothing to confuse and camouflage it or for that matter, to make it easier on the eye. The black demands more of me but definitely also of those looking at the work," Thomas explains.

My own way
From the darkness emerge the photorealistic portraits, which have become Thomas's trademark. Since his breakthrough in 1994, he has portrayed some of the most powerful people in Denmark such as Her Majesty Queen Margrethe II, Crown Prince Frederik, shipping magnate Maersk Mc-Kinney Møller and former Prime Minister Anders Fogh Rasmussen.
In 2013, Thomas Kluge became known across much of Europe, the reason being the work "The Royal Family", where The Royals were pictured in such a way causing a British newspaper to dub it "The World's creepiest royal portrait".
The attention suits Thomas well: "There is a large amount of provocation in my works. When painting portraits and even doing so with the great Baroque and Renaissance masters as inspiration, it is difficult to be recognised by the established art world. My style simply does not fit into the established conformist framework. I was rejected by the Academy Of Arts three times and the big museums do not encourage me to exhibit. I have had to pave the way myself and I have done it in my own way. "
Space for those nearest and dearest
On Samsø, Thomas has produced some of his most private – and best, in Anna's opinion – paintings. Paintings of the children and of family life but also one of John the Baptist and a number of small still life motifs, which focus almost entirely on blue anemones, strawberries and pomegranates.
"When we arrive here, we put the outside world on hold. No internet. No TV news bulletins. We make room for connecting with that which is essential and that we hold close, that which is important, and it shows in the things I produce here," explains Thomas, whilst showing us around his small studio in the house.
Because even if Thomas loves spending time with Anna and the children, when they are on Samsø, he finds it hard being away from his brushes and canvas. "I'm no good being away from painting for long periods. The brushes should preferably not be left standing for too long. But we make room for it all, and I am definitely a nicer person, when I have the opportunity to immerse myself in painting once in a while."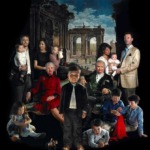 • Anna Helleberg Kluge is a priest and dean in Næstved and has been an elite rower.
• Thomas Kluge is a self-taught art painter and debuted in 1993.
• In 2019 he exhibits on Kronborg Castle.
• Anna and Thomas were married in 2007 and they have a total of five children
Last updated: 11/08/2020 14:38