Samsø for Adults, Wedding on Samsø
Unforgettable Memories on Samsø
Last summer former Minister of Environment Kirsten Brosbøl got married on Samsø. There were many romantic reasons for celebrating their wedding on Samsø.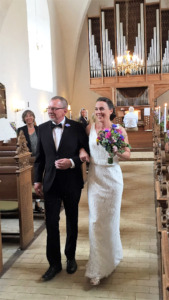 Politician Kirsten Brosbøl has always felt particularly close to Samsø. She grew up in Odder just on the other side of the sea, and, therefore, frequently visited the island in her childhood. When she met her future husband, Daniel Raahauge, her Samsø connection found an extra dimension:
"My husband has relatives on Samsø and we often use their holiday cottage for a long weekend or during holidays. We enjoy being on the ferry feeling a sense of tranquility descending, and, not least, exploring and enjoying the lovely Samsø scenery. The sunset from the terrace of our holiday cottage is like a balm for the soul," says Kirsten Brosbøl.
The Great Moments of Life in a Samsø Setting
Samsø also happened to frame two very important experiences in Kirsten´s life. On a Sunday in March 2010, in the summer cottage on Samsø, she found out that she was pregnant, and in the same summer cottage her husband proposed marriage to her:
"He surprised me by placing the ring on my pillow. It was completely unexpected and, of course, I was delighted."
The couple's many shared experiences from Samsø meant it was a natural decision to celebrate their wedding on Samsø. So on June 26th 2016, Kirsten and Daniel were married in Tranebjerg Church. The wedding celebrations were held at the Ilse Made hotel close to the family's holiday cottage.
We instantly fell for the Ilse Made hotel. It is located near our holiday cottage, and very often we had passed the hotel without dropping in, but when we saw the house and felt the atmosphere, we had no doubts that this was our place. This place combines beautiful and relaxing surroundings with an unsurpassed culinary experience. It was wonderful to give our guests the opportunity to taste Samsø with its fresh asperagus, potatoes and rhubarbs – what's not to like?
Everything Formed a Synthesis
With her wedding, Kirsten has gained one more romantic memory from Samsø, and she visits the island as often as she is able. She, of course, still recalls her wedding on Samsø with great pleasure. Everything in connection with such a wedding oozes love. Not just between bride and bridegroom, but also between the happy couple and their guests – for us everything just formed a synthesis. We were in completely the right place in our life, the pleasure of gathering our closest family and friends who joined us and gave the most wonderful, personal and warm speeches which we shall never forget. It was a very special thing to celebrate our wedding on an island where guests don't have to go home that night. Thus, our celebration actually lasted several days. It was just simply wonderful!
Last updated: 26/08/2020 11:20