Manufacturers, Samsø for Adults, Tales of local commodities
During the recent 10-15 years, Samsø has seen a gastronomic development where the number of restaurants has increased greatly, with several new, small producers of delicacies and foods who take great pride in making their guests happy.
Under Our Feet
We have to go back to the end of the ninetieth century to find the answer as to why Samsø is today known all over Denmark as the island that produces goods of the highest quality. "Queen of the South" is the name of the new Samsø potato that quickly appealed to city dwellers and thus became the starting signal of the determination that today, more than hundred years later, makes us world champions in quality. Today, the self-respect that farmers created at that time with "Queen of the South" has found its way into Samsø's restaurants where the circle from grower to guest is completed by the chefs' skills in the kitchen and the waiters' pleasure in telling good stories. Quality is on the plates, easy to taste and hear!
Love of Good Food All Year
From among the almost forty eating places located on the island, nearly a dozen of them are open almost all the year round, whereas the rest accept guests from Easter until some time in the autumn. This is a significant increase compared to the situation just a decade ago, and it is the result of the fact that more and more chefs are island residents both in summer and in winter. This brings about stability, new possibilities, and interesting constellations as well as keen awareness of varying seasons.
"At the end of the day, it all comes down to the produce we use. On Samsø, we have access to fantastic produce that gives chefs the opportunity to create better menus and better taste experiences", says Lasse Fisker from Strandlyst in Ballen.
Chavdar Nachev from Restaurant Flinhcs in Tranebjerg agrees. "The chefs, the farmers, and of course the guests have contributed to push each other towards a stronger awareness of seasonal produce, and that really makes me feel great. With the variation and quality we have on Samsø, you become inspired to use seasonal produce. And evidently, this is the only natural thing to do".
Offering tasty products for 20 years, Restaurant Skipperly in Ballen has gladly followed the gastronomic development that Samsø has experienced. "Standards have improved at all the restaurants on the island. Our guests have become more interested in gastronomy, and it is wonderful to be part of maintaining and even improving the level", chef and partner Mads Risom explains.

On First Name with the Steak
Most restaurants in big cities buy their vegetables through a catering firm or at the vegetable market. On Samsø, the way from soil to table is much shorter.
"We have a very good relationship with our suppliers. Several chefs even have arrangements with farmers about growing a special type of cabbage, some exotic variants of thyme, or something completely different, exclusively for their own restau- rant. Only a few places in Denmark operate this way. On our island, we have more than 15 local suppliers and we feel that they are passionate about their products. This makes all of us very proud", a clear statement from Jacob Raunsgaard from Restaurant Skipperly.
Kasper Gaard, chef and partner in Ilse made, has even closer access to the produce. "Just outside of our restaurant we have our Scottish highland cattle which find their way onto our plates after having lived a great life. At one time, we had to stop waiting on our guests as we had to go out and help one of the cows calve. As you can see, this is a close relationship, and it is certainly extraordinary to be able to serve such local products to our guests", he explains.
---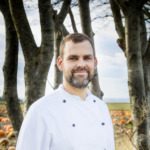 Mads Risom
Title: Chef and partner at Skipperly
Earlier employment: Madsen Hotel in Bjerringbro where I finished my apprenticeship. I have also been employed at Frederikshøj Kro and at Martino in Aarhus.
The best produce from Samsø: Asparagus and potatoes.
When you sit down at the table in my restaurant, you can look forward to: Tasting the produce of the island prepared by a passionate chef in pleasant surroundings with a view over the Kattegat.
---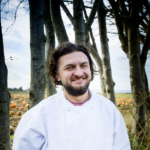 Chavdar Nachev 
Title: Chef at Flinchs Hotel
Earlier employment: Restaurant Carrera, Restaurant and Catering PURE, and many other places.
The best produce from Samsø: Asparagus, potatoes, beetroot.
When you sit down at the table in my restaurant, you can look forward to: A tasty meal.
---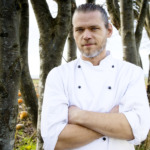 Jacob Raunsgaard
Title: Chef at Skipperly
Earlier employment: Strandlyst, SAK, Flinchs hotel.
The best produce from Samsø: The soil! Everything that comes from Samsø's soil tastes better than in other places.
When you sit down at the table at my restaurant, you can look forward to: An experience unique of Skipperly. Everything included.
---
Lasse Fisker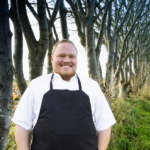 Title: Chef + everything else at Strandlyst
Earlier employment: Mefisto in Aarhus, chef at De 4 Roser and Fiskekompaniet, both located in Tromsø in Norway.
The best produce from Samsø: Local vegetables and especially asparagus and potatoes.
When you sit down at the table in my restaurant, you can look forward to: A menu based on local produce with a focus on a more exquisite, culinary experience.
---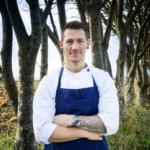 Kasper Gaard
Title: Chef and hotel manager, Ilse made
Earlier employment: Nordisk Spisehus, Malling & Schmidt, River Cottage. Culinary Ambassador at several restaurants abroad, including Moscow and Kiev.
The best produce from Samsø: SAMSØ! When Samsø is in season, there is no single produce that isn't the best quality, be it from the forest, the beach or the farms. This small island is Denmark's best larder.
When you sit down at the table at my restaurant, you can look forward to: An evening in peace and quiet without children and with a focus on the meal. An informal atmosphere with excellent service and in addition the island's most scenic sunset.
Last updated: 26/08/2020 11:19