Art and Culture on Samsø
Phenomenal festival volunteers
There's no Samsø Festival without the 1,600 volunteers helping out before, during and after this massive event. There are stages to be erected, bars to be filled, market stall parades to be decorated, bins to be emptied and much much more to enable audiences and musicians to enjoy their four days at 'The Cosiest Festival In Denmark' Here you can meet some of the awesome helpers and volunteers – and there's room for you too.

The Steward
Diana trained as a waiter but is currently studying to become a kindergarten pedagogue. She lives in Hjortshøj.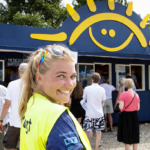 The stewards make sure that the festival takes place in a calm and orderly fashion, where everyone is safe. As a steward I man the entrance as well as patrolling the site. I meet people on their way to and from the concerts and in the marquee area, where people party 24/7.
The troupe of friends with whom we camp have all paid for their ticket so it's only my boyfriend and I who are volunteers. It's the coolest way to experience a festival. We talk to lots of people and we represent the festival in a friendly and pleasant way. It's also a welcome break from partying and drinking. I hail from Samsø and have obviously been here before as a regular guest but this is the first time I have volunteered as a helper. If you are a little shy, the job as a steward is a really nice way to be thrown into the thick of it. "Ask me" it says on our T-shirts, so it's very easy to meet people. As a steward you sometimes have to be a little firm but the guests are very happy and understanding when we ask them something.
---
The backstage cooks
Wilborg works as an trainer and receptionist at Fitness World. Claus is a sales manager at Carletti's. They both live in Skødstrup and together they've been Samsø Festival volunteers three times.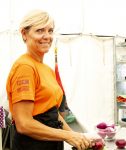 The backstage kitchen provides food for the performing artists and their families. We start to prepare the menus a couple of days before the festival starts and get down to business once the music begins.
Artists can choose their lunches and dinners from a menu featuring the seasonal food from Samsø. Many of the musicians pop into the kitchen to praise the food. In fact, we're often told that Samsø Festival is the festival with the best food.
We like to get involved when we are at a festival. Once we tried being regular paying guests but that didn't work for us. As volunteers, we can be active and useful whilst having fun. And there is also plenty of time to drink beer and listen to the music.
Even though we own a house in Brundby near Ballen we always stay in the Helpers' Camp. It allows us to have a night out at the festival when we want to.
---
The barmaid
Jeanet lives in Silkeborg, where she works in technical support at Yousee. She also works as a bartender.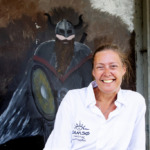 The first time I volunteered at the Samsø Festival my friend cancelled on me and I had to go by myself. I didn't know anyone and I was quite nervous about the whole thing. However after the first day as a volunteer I was ready to sign up for the following year.
This year is the 14th time I am a volunteer at the Samsø Festival. I was a stage steward for a number of years and it was really nice to look out at all the happy people listening to the music. I think it's important to create a cozy atmosphere in the bar, so I'm very generous with smiles and big hugs. The Valhalla Bar is located just off the main entrance and it is a very good place to meet away from the din of the main stage. It's mostly grown-ups over 40 frequenting the bar but they certainly know how to party. Over the years, I have gone from being on my own at the festival to being part of a larger group of friends and family, all of whom are volunteers.
---
Stagehands
Irene works as a book-keeper and Erik works as a fitter and in a warehouse. They both live in Horsens and have been Samsø Festival volunteers four times.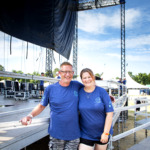 Stagehands carry the artists' gear onto the stage; everything from backdrops to smoke cannons and confetti pipes. All bands have their own equipment, which has to be in place before they perform. Once the band has finished playing, we take it all out again and prepare for the next act. When the band is playing, we take a break and enjoy the music.
Volunteering is a big part of our lives. We are volunteers at several festivals and cultural events, and incidentally, it was as volunteers at a festival that we first met. It is incredibly rewarding to do volunteer work. We help create something for others and we're not really into just lying on a beach. The community spirit amongst the volunteers is also a major part of our festival. We stay in the Helpers' Camp with friends and family. The youngest member of the camp is 16 months old but it is still his second festival. We also have a really lovely time with the other volunteers in the team, many of whom we know from previous years.
The festival is a holiday for us, and we manage to fit in trips to the beach, to get ice cream in Ballen and a trip round Samsø. What's really special about the festival is the camaraderie, the cosiness and that all are welcome.
Last updated: 11/08/2020 14:44