Wedding on Samsø
Dream Wedding on Ballebjerg
Nana Rytter Nielsen and Allan Priess Poulsen saw all their dreams come true when they got married on Samsø
How many guests can we host? Should the wedding ceremony be in the church or in open air? Can we even afford it? For most, a wedding is not only one of the greatest days of their life, but also an event full of decisions and difficult choices. For Nana Rytter Nielsen and Allan Priess Poulsen all these challenges was solved on Samsø.
The couple got married on September 2nd 2017, but the majority of the guests arrived they day before for a 48-hour wedding celebration. This desire for a weekend wedding was one of the primary reasons for choosing Samsø as the location.
"We love partying, so from the very start, we wanted our wedding party to last as long as possible. Many people have told us they felt their own wedding seemed to be over in minutes, so we wanted to try to extend the event. By having our wedding on an island, and gathering all our guests in one place, we wanted to ensure that no one would have to drive home or get up early to take care of their children. It was 100 percent a party and it worked fantastically," says Nana.
Nana grew up on Samsø, it was a natural choice when they started to plan their wedding, but tradition wasn't the only reason their wedding party ended up on Samsø, Allan explains.
"As Samsø is exactly in the centre of Denmark, it was logistically ideal to have our wedding here. About half of our guests came from Jutland and the rest from Zealand, so none were very far from home. In addition, we found the relaxing ferry crossing to the island, a romantic start to the weekend," he says.
In reality, for most guests, the weekend started even earlier because there was a shared bus provided to the ferry. According to the happy couple, this helped the guests to join the celebrations from the very beginning, allowing the wedding party to be more unrestrained and less formal.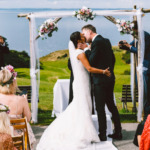 Wedding with a Picturesque View
The ceremony itself took place on Ballebjerg, the highest point on Samsø, an extremely beautiful scenic area that has been used for open air weddings many times. Samsø has several hundred sunshine hours more per year than the average in Denmark, and it lived up to its reputation as the sun shone during the entire wedding ceremony. The wedding faced the breathless view over the hilly landscape and the Kattegat, with some of the guests taking a seat in the small observation tower, making the view even more spectacular. When the couple had said 'I do' and the bride had sung Søs Fenger's "Du er" for her husband, delicous wedding cake and champagne were served outside – according to Nana, "in perfect scenery".
"My stepfather made a small altar and my sister made some fantastic floral decorations. It was all so beautiful, and fulfilled all my expectations and more. The setting was almost like a painting so the romantic setting was ramped up to "full", and our guests were completely gobsmacked by it all. We could not have wished for a more beautiful wedding ceremony", she says.
Wedding Party at the Camping Site
The wedding party took place in the assembly hall at Sælvigbugtens Camping. This was an option that Allan found hard to swallow at first sight, but one he ended up embracing completely.
"When Nana suggested we held our wedding reception at a camping site, my first response was no! In my opinion a wedding party and a camping site have very little to do with each other. But as soon as I saw the place for the first time, I had no more doubts, in all honesty. The surroundings were very beautiful, the site is located near the water, and most important, the site had so many cottages and rooms that all our guests could be housed near each other, making the whole experience even more intimate", says Allan.
On Friday, the reception room was already put to use when the married couple received their guests with an informal dinner and reception. The following day the room had completely transformed with all kinds of decorations, balloons, and lots of flowers. The married couple hired the local chef, Henrik Griebel Andersen, an Aarhus band, and a DJ from Copenhagen. Together they managed to create the framework for a party that lasted till daybreak – exactly as the married couple had wanted it.
Big Wedding at Limited Means
On Sunday, most of the wedding guests washed away their hangover by taking a dive into the sea followed by a group breakfast in the morning sun. Later that day, the married couple bid farewell to a total of 110 guests after a weekend full of memories that will last them a lifetime.
"The number of guests alone was a challenge as it is difficult to find places where so many people can stay together, which was our wish from the very first discussion. In addition, we were able to make it relatively cheap although we invited so many guests. We wanted to hold a big wedding party, without spending several thousand Danish kroner on it, which would probably have been the case if we had held the party in Copenhagen where we live," says Nana.
To her, Samsø has always meant childhood, family, and cosiness. Now the idyll of the island has a link to her husband and their family and friends after a wedding celebration that was far beyond their expectations.
Last updated: 12/08/2020 13:51