Samsø's Best Open-faced Potato Sandwich – Winner 2017
The Samsø's Best Open-Faced Potato Sandwich 2017 competition has just finished. Again this year, it was tense to the very last minute when eleven Samsø restaurants were competing for the favour of the judges.  When they had tasted everything and the panel had cast their vote, it was clear that Restaurant SAK, for the second successive year, had taken the trophy, the diploma, and honour as the maker of Samsø's best open-faced potato sandwich.
Boiled Samsø potatoes, dried Samsø potatoes, Danish lobster, mussels, onions, smoked pork, and herbs from the island were the ingredients required to convince the judges that this year's first prize should go to the chefs Peter Emil Hede Madsen and Isa Jacob from Retstaurant SAK.
This sandwich was in keen competition with other delicious sandwiches from a number of island restaurants. Contrary to other local chef competitions that often have participants from all over the country or even from abroad, Samsø's Best Open-faced Sandwich is solely for restaurants on Samsø, of which there are 35.
The atmosphere in Samsø Hallen was second to none when VisitSamsø, Samsø Restauratørforening (Samsø's Association of Restaurant Owners) and Samsø Fødevarenetværk (Samsø Foodstuffs Network) opened the doors for Samsø's Best Open-faced Sandwich 2017. More than 650 guests took part in the festivities and many imaginative open-faced sandwiches were composed from the large self-service table abound in new potatoes, herring, rye bread baked from local flour, and fresh herbs.
Accompanied by toasts in beer and schnnaps, people chatted at the many tables. Throughout the whole day, Peter Aalbæk Jensen, master of ceremonies, ensured an atmosphere of high quality. Sharp-edged judges and a humorous master of ceremonies.
This year, the panel of judges was made up of double Michelin star chef Paul Cunningham from Henne Kirkeby Kro, food columnist and cookbook writer Nadia Mathiassen, the Danish open-faced sandwich queen, Ida Davidsen, and her son, restaurant owner Oscar Davidsen Siesbye, potato grower from Samsø Jørgen "Bubber" Jensen, food columnist Rasmus "Feinschmeckeren" Palsgård, chef Rasmus Munk from Restaurant Alchemist, and chef Jesper Koch, guilty of several Michelin restaurants.
During the day, the eight judges tasted eleven very different potato sandwiches and judged them by composition, taste, general impression, and newsworthiness. After having inspected, smelled, tasted and evaluated the different servings, the winning choice fell on the potato sandwich from Restaurant SAK. Incidentally, the same restaurant won the competition in 2014 and 2016.
This year, Restaurant Strandlyst came in second and Restaurant Skipperly came in third. As a new competition feature, the audience could for their favourite sandwich this year, choosing the restaurant Ilse Made.
---
Restaurant SAK – 1st place
Read more about Restaurant SAK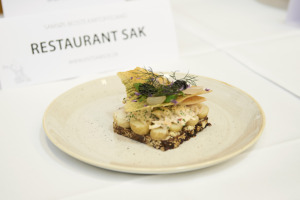 Boiled Samsø potatoes, Dried Samsø potatoes, Danish lobster, Mussels, Onion, Smoked pork, Samsø herbs.
---
Restaurant Strandlyst – 2nd place
Read more about Restaurant Strandlyst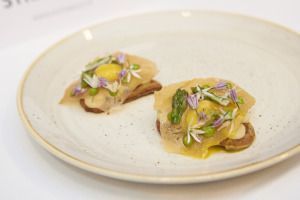 "From Norway to Samsø": Rye bread waffle with potato chive confit, Potato fondant fried in chicken fat, Lobster and green asparagus, Potato lid with chive and midnight sun.
---
Restaurant Skipperly – 3rd place
Read more about Restaurant Skipperly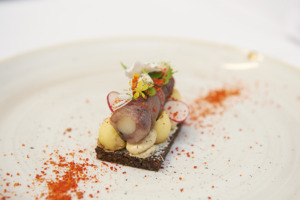 Herring, Smoked potato, Leek crème, Spawn, Chive, Samsø Arielle potatoes.
---
Restaurant Flinchs
Read more about Restaurant Flinchs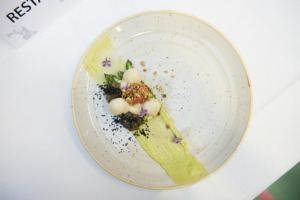 Samsø Arielle potatoes, Dark rye bread, Green asparagus butter, Green asparagus salad, Lilac flower mayo, Black garlic crème fraiche, Sous vide salmon, Crispy salmon skin.
---
Tante Tut – Café/Butik
Read more about Tante Tut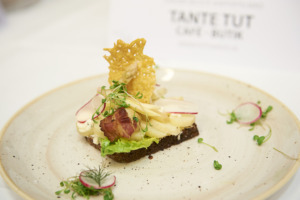 Rye bread, Mini romaine, Smoked curd cheese mix, Samsø potatoes, Potato salad, Bacon potato, Preserved white asparagus, Parmesan, Radish, Cress.
---
Ilse Made
Read more about Ilse Made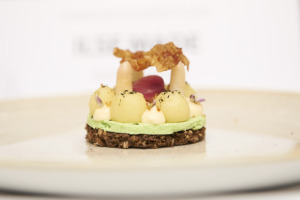 Home-made rye bread, Asparagus butter of green organic asparagus from Toftebjerg, Magda potatoes from Erik, Mayo of bakskuld (salt, smoked, and dried dab), Bakskuld frit, Preserved white, organic asparagus from Toftebjerg, Home-made bacon.
---
RODFAST
Read more about Rodfast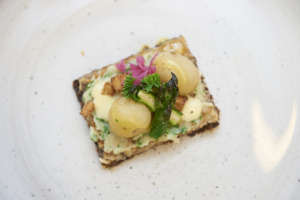 "Amager-potato-toast": Organic rye bread, Ravost, special cheese from Thise Mejeri (named after Rav Åge), Top of Rodfast's sourdough wheat bread. The Amager-toast is topped with a combination of different prepared potatoes, island vegetables, and homemade mayo.
---
Restaurant Dokken
Read more about Restaurant Dokken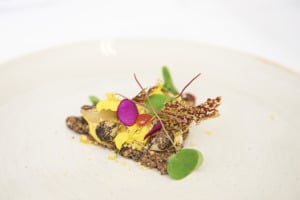 "Summer in Alstrup": Grilled potatoes, Smoked millet, Rose hip, Cannola mayo, Crispy potatoes, Rye bread with chia, Black sesame, and Hazelnuts.
---
Restaurant Behrnt
Read more about Restaurant Behrnt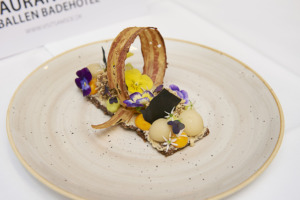 Rye bread baked from Samsø flour and Brown Ale from Samsø Brewery, Island honey, Smoked potatoes, Lovage potato, Butter steamed potato, Crispy pork, Chocolate braised pork cheek deep-fried with crispy pork, Ramson, Bacon, Tomato mayo, Herbs, Edible flowers.
---
VADSTRUP 1771
Read more about Vadstrup 1771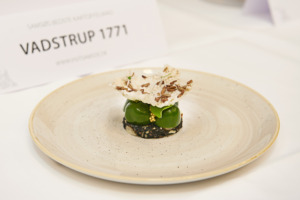 Roast malt rye bread with macadamia nuts, Lovage, Crispy sunflower, Preserved mustard seeds, Ramson flowers.
---
ELDRIMNE
Read more about Eldrimne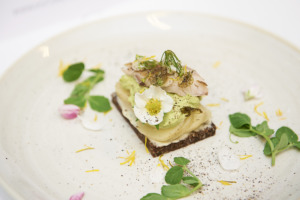 Rye bread, Ramson mayo, Potatoes, Pea mousse, Smoked mackerel, Preserved ramson flowers, Garden flowers.
---
Practical information
Samsø's Best Open-faced Potato Sandwich 2017 was held in Samsø Hallen on Thursday 25th of May. The competition is organised by VisitSamsø in collaboration with Samsø Restauratørforening and Samsø Fødevarenetværk, an association of Samsø foodstuff producers, restaurant owners, and growers.
Next year, Samsø's Best Open-faced Potato Sandwich is being held on Saturday 26th of May.
Last updated: 11. Dec. 2017 14:45